Sarasota, Florida Flood Insurance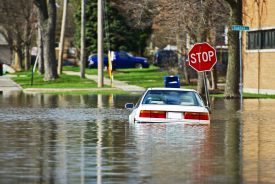 Flood damage can be devastating for any family, and most flood losses are not covered by your standard home insurance policy. Also, don't rely on the federal government to assist you in the event of a massive flood situation.

In addition to the National Flood Program Iron City Insurance also now has available one of the only Private Flood Programs in the State of Florida. If you live near the water or in an older home you will certainly want to check out this new program. Some of the benefits include:

· Private Policy includes all the same coverages as the National Flood Policy
· Does not require an elevation certificate (including A and V Zones)
· Age of home is not used to determine premium (Pre-FIRM or Post-FIRM acceptable)
· Waiting period is only 7 days (not 30) or 0 wait with an approved loan transaction
· Accepted by 99.9% of mortgage lenders
· Coverage limits are the same as the National Flood Program
· Can cost $1000's less than the National Flood Policy
· Underwritten by an AM Best A+ rated carrier
The Private Flood Program IS available for:
Single Family Dwelling and 2 to 4 Unit Residential Buildings located in Florida
The Private Flood Program IS NOT available for:
Properties that have experienced more than one flood loss within the past five years, properties with unrepaired damage from a flood, properties that incurred a flood loss to the structure of $250,000 or greater, mobile homes, condominium units, commercial properties,or a property that has been designated by a duly constituted State or local authority to be in violation of State or local floodplain management regulations (Section 1316). Properties located in CBRA area, NFIP non-participating communities, a community under NFIP probation, or the Emergency Program.
Policies have different options so contact one of our staff at 941-256-3900 for any questions you may have about your Florida flood insurance policy.